Daily Pooja
Shivlinga (Kadappa) Pooja
The existence of Kaadhsiddheshwar Temple at Pattadakal, the world famous UNESCO Heritage Site in Bagalkot, Karnataka during mid-7th century temple proves that the Kadsiddheswar tradition and the Siddhagiri Matha are at least thirteen centuries old. The temple at Kaneri is claimed to have been here since the 7th century, but its architecture looks younger. It is possible that a Shiva Linga had been established there in the 7th century. The outer edifices might have come later, possibly in the 12th century.
Chatuskaal Pooja
The day at the Siddhgiri Matha starts with the 'Chatushkaal Puja', which means offering worship at four A Normal Day in the Matha 4 times a day, namely
Kakadarti & Pratahsnan
Sakalche Bhajan Ani Naivedya
Duparche Bhajan,Pooja ani Maha Naivedya
Sayankalin Bhajan, Pooja ani Prasad
Abhisheka
After the morning Chatushkaal Puja, there is abhisheka of the Shiva Linga at 8:30 A.M. in the morning. An abhisheka is a religious bathing ceremony. Especially the 'Linga-form' Shiva is worshiped by doing the Abhishekam that pleases Him. Even by pouring a drop of water on the Shiva Linga, it is believed that one will be relieved of all the difficulties, sorrows and will be blessed with joy and happiness ever after.
Shravan Somvar
As another festival of Lord Shiva, the Shravan Somvar in the month of Shravan is also celebrated enthusiastically in the Siddhagiri Matha. Shravan is the fifth month of the Hindu calendar considered one of the holiest of the year. Each Monday of this month, known as Shravan Somvar, is a special day in Shiva temples and hence the Siddhagiri temple. Devotees bathe the deity with holy water and offer Bel Patra, Dhatura and Akaua flowers.
Annachatra Donation
If any devotee donates Rs. 11000/- for Annachtram, then that day Shivlinga Pooja is performed on behalf of that donor. The name of the donor is published.
POOJA VIDHI AT KADAPPA TEMPLE
Types of Pooja performed at Kadappa – Shivlinga Temple
Rudrabhishek Pooja
Rudra is another name of Lord Shiva. Just like Mahadev, Shankar, Bhole Nath Shivay and so on, Rudra is extremely famous as the name of Lord Shiva. Lord Shiva has always been benevolent. He kept the request of Lord Brahma and created 11 immortal beings namely:
Kapaali, Pingala, Bhima, Virupaksha, Vilohitaa, Ajesha, Shavasana, Shasta, Shambu, Chanda and, Dhruva.
As Lord Shiva created the 11 Rudras, he was addressed by the name Rudra.
What is Rudrabhishek pooja?
Rudrabhishek puja is paramount. It is extremely important as a ritual. It is one of the finest, purest and compelling rituals in Hinduism. Lord Shiva, in the Rudrabhishek puja, is worshipped by giving him a sacred bath along with flowers and the necessary materials required in this puja.
When does a Rudrabhishek pooja take place?
Rudrabhishek puja takes place in the month of Shravan. It is a rainy month according to Hinduism. The month is in July-August.
Pooja At Kadappa Temple
Pooja Vidhi at Shri Siddhagiri Math
Abhisheka
An abhiṣeka is conducted by priests by bathing the idol of the deity being worshipped, amidst the chanting of mantras. Usually, offerings such as milk, curd, ghee, honey, panchamrita, oil, Bhasma may be poured among other offerings depending on the type of abhishekam being performed.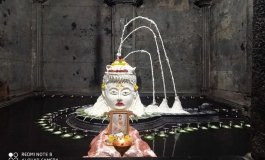 Rudrabhishek
Rudrabhishek is a ritual to express one's dedication towards Lord Shiva. It involves sacred bathing of the Shivalinga with milk, sugar , honey,fresh water along with camphor, bhasma, bhang, belpatra, dhatura and sweets amid chanting of hymns.
Laghu Rudrabhishek
Laghu Rudrabhishek is a very important ritual in which the Panchamarit Pooja is offered to Lord Shiva. Nevertheless, this pooja is performed by experienced priests and they recite very powerful mantras. This rudra hymns are chanted 11 times.
Maharudra
"The Maha Rudra Shiva Yagna performed to worship Lord Shiva, the destroyer of all evil and the protector, is aimed to synchronize the rhythm of work, prayer, and spirituality for the collective well-being of our civilization and our bio-diversity.
Service Includes: Sankalpa, Shiva Abhisheka, 1331 recitation of namakam and 121 recitation of chamakam, Havan, Arti, Pushpanjali, Daily food to Brahmins.
Duration: 11 days-7 hours daily
No. of Preists: 11
Vishnu Yadnya
Vishnu Yag consists of the reading of Vishnu Sahastranaam/ Pavmaan Sukta/ Vishnu Sukta and Hawan. Lord Vishnu's 1000 names are chanted. As Vedas Lord Vishnu is the caretaker of this universe and he is the one who created this world and to establish dharma he has been always protecting from spirits and such creatures.
Ganesh Yadnya
Ganesh Yaag is the Pooja of Lord Ganesh performed by Ganesh devotees on the auspicious days of Ganesh birth anniversary where in the devotees recite shlokas from Atharva Shirsha around 1000 times while doing Abhishek to Lord Ganesha. Ganesh Yaag is performed in order to remove obstacles and problems faced by individual, to achieve success in life, to gain knowledge and to fulfill ones desires.
Navchandi Yagna
Navchandi Yagna includes the reading of Durga Saptashati and its Yadnya. Navchandi describes God's grace, wisdom, and power in the way of Yagya. This is more detailed worship. It is of importance in Sharada Navaratri's Durga Puja / Vijaya Dashmi, and especially in the Vasant Navaratri on the occasion of Maha Navami.
Shatchandi Yagna
Shat Chandni Yagna is performed to seek the blessings of Mother Durga also referred to as Chandni. Performing this yagna can help clear any kind of hurdles and obstacles hindering your success. With this one invokes Goddess Durga and seeks the power to balance your life. These include about 700 secret and powerful mantras in praise of Goddess Durga in which she defeats various demons and blesses devotees with abundance of happiness, prosperity, health, victory in every aspect.
Pran Pratishthan
Refers to the rite or ceremony by which a murti (vessel for the spirit of god) is consecrated in a Hindu temple, wherein hymns and mantra are recited to invite the deity to be resident guest, and the murti's eye is opened for the first time.
Pooja Vidhi at Siddhagiri Temple
Kadsiddheshwar Sampradaya is 1350 years old. The temple is around 750 years old from then till today , the Shivlinga has been worshipped on a daily basis. The positive energy around the temple premises fascinates the devotees. People, it is believed that the devotees never come back empty hand if they perform any offerings to this deity. As a devotee, if any kind of pooja to be performs then you can enquire here.
To book any of the Pooja/Yagya call on 0231 268 4113
Siddhagiri Agnihotra
Purify the atmosphere with Agnihotra
How to use:
To be performed daily at sunrise and sunset at farms, inside home, etc.
Samagri:
Copper Pyramid Pot
Raw Rice
Desi Cow Ghee
Desi Cow Dung
Purpose:
Agnihotra is a healing fire produced by burning Indian cow dung, ghee and some raw rice pieces.
Scientifically, it is proved that this fire heals the surroundings. It is a process of purifying the atmosphere through a specially prepared fire performed at sunrise and sunset daily. It is the ancient science of Ayurveda. Non-fertile land, if exposed to Agni-hotra daily, starts yielding after a year or so. Children who are mentally retarded starts grasping things quickly due to performing Agnihotra daily. Agnihotra reduces stress, leads to greater clarity of thought, improves overall health, gives one increased energy, and makes the mind more full of love. It is a great help to drug and alcohol de-addiction. Agnihotra also nourishes plant life and neutralizes harmful radiation and pathogenic bacteria. It harmonizes the functioning of Prana (life energy) and can be used to purify water resources.
Sanskrit Shlokas to be chanted:
(सूर्योदय)
सूर्याय स्वाहा सूर्याय इदं न मम।
प्रजापतये स्वाहा प्रजापतये इदं न मम।।
(सूर्यास्त)
अग्नये स्वाहा अग्नये इदं न मम।
प्रजापतये स्वाहा प्रजापतये इदं न मम।।
Annual Festivals
Annual Festivals at Siddhagiri Matham
Shivratri
Shivratri is the most important festival at the Matha. Shiva is the deity which is worshipped at the temple and in the Matha and hence Shivratri, the day when Shiva is said to have manifested on Earth in the form of Linga is celebrated most enthusiastically. It is a great Hindu festival, celebrated every year in reverence of Lord Shiva. It is the day Shiva was married to Parvati. Shivratri is observed on the 13th night/14th day in the Krishna Paksha, every year in the month of Phalgun according to the Hindu calendar. The festival is principally celebrated by offerings of Bilva leaves to Lord Shiva, allday fasting and an all-night-long vigil (jagarana). All through the day, devotees chant 'Om Namah Shivaya', a sacred 'Panchakshara mantra' dedicated to Lord Shiva. In accordance with scriptural and discipleship traditions, penances are performed in order to gain boons in the practice of Yoga and meditation.
In February or March
Gurupournima
The date of the full moon in the month of Ashadh is called Gurupournima and Vyas Pournima. Veda Vyas has been given the status of the first Guru because he has imparted the knowledge of the four Vedas to the entire human race. Guru is a venerable person who removes the darkness of ignorance and leads to the path of knowledge and light. Gurupournima is an important festival in India. In Indian culture, Guru is considered as God. Gurupoojan is also performed on Gurupournima. In India, Gurupournima is celebrated with great enthusiasm and reverence. The special feature of this year's Gurupournima is that Sarvarth Siddhi Yoga and Amrit Kaal will also be held on this day.
Every Months Full Moon
Guru Aradhana
Disciple and Guru are inseparable. It is also necessary to have a guru in life with sadhana, adoration and spirituality. Gurus work to show the right way in life. No matter how much a human being says, the Guru has an influence in everyone's life. It brings happiness, success and salvation in life. 48th Mathadhipati of Kadsiddheshwar legacy i.e. P.P. Muppin Kadhsiddheshwar Swamiji Maharaj spread the Sampradaya beyond the walls of Matha and prepared every devotee as a successful Sadhaka. In the memory of Shri Muppin Kadsiddheshwar swamiji Maharaj, 3 days Satsanga is held at Siddhagiri matha, Kolhapur.
Every Year In September or October
Navrati Saptaha
Navratri is another festival which is celebrated with fanfare in the Siddhagiri Matha. The word Navaratri means 'nine nights' in Sanskrit, nava meaning nine and ratri meaning nights. During these nine nights and ten days, nine forms of Shakti/Devi are worshiped. The tenth day is commonly referred to as Vijayadashami or 'Dussehra'. Navaratri happens to be the most auspicious and unique period of devotional sadhanas and worship of Shakti (the sublime, ultimate, absolute creative energy) of the Divine conceptualized as the Mother Goddess-Durga, whose worship dates back to prehistoric times, even before the dawn of the Vedic age. Palki Puja is carried on during Navratri, in which the Utsav Murti (one which is mobile and used in Palkis in festivals) of Kaadhsiddheshwar is taken in the Palki and carried around the temple.
Every Yearl In December
Kaartik Swami Utsav
During the month of Kaarthik every year, the traditional followers of the Kaadhsiddheshwar tradition and Siddhagiri Matha from Karnataka come to the Matha and light diyas. The activity goes on for the whole month and anyone can come on any day of the month. Other festivals are also celebrated in the Matha, but the above three are most important.
In February or March